Virtual Lunch & Learn: Ruling Out Medical Causes of Depression
Wednesday, April 06, 2022
,
12:00 PM
-
1:30 PM PST
Category: Lunch & Learn
---
LACPA's 2022 LUNCH & LEARN SERIES 
LACPA Membership Benefit
Ruling Out Medical Causes of Depression 
Presented by
Neevon Esmaili, M.D.
Wednesday, April 6, 2022
12:00 - 1:30 PM (PT)
Held virtually via Zoom
Advanced Level 
1.5  CE Credits 
This program will be recorded for future on-demand viewing.


 Registration closed 4/5/22 
Abstract:
Medical illness can contribute to depression severity, and in some cases be the underlying, reversible etiology. This lecture identifies when to suspect a depression presentation may be a physical illness and describes specific disorders in a comprehensive review of physical systems.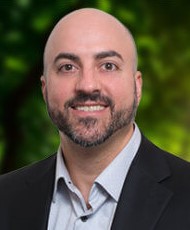 Neevon Esmaili, M.D. is the medical director of Mental Fitness Clinic in West Los Angeles, a team based clinic serving adults, children and adolescents, with comprehensive services, including psychiatry, psychotherapy and neuropsychological testing.  Dr. Esmaili's has Two Board Certifications in Adult Psychiatry and Child & Adolescent Psychiatry. He Completed a Fellowship in Child and Adolescent Psychiatry at Harbor-University of California Los Angeles, named Chief Fellow. Dr. Esmaili Trained in Adult Psychiatry at the University of Southern California, He Attended Medical school at the State University of New York Downstate Health Science Center at Brooklyn. His Scholarly Activities include participating as an Adjunct Clinical Assistant Professor of Psychiatry & the Behavioral Sciences (Voluntary) at the Keck School of Medicine of University of Southern California* Dr. Esmaili is a Co-Author of a literature review paper published in a peer reviewed journal on ketamine abuse and diversion, a case report on the management of a patient with a brain tumor and mental illness in the American Journal of Psychiatry Residents Journal, and Presented research findings on medical disorders in adult psychiatric outpatients at the American Psychosomatic Society annual meeting on a travel scholarship.
Course Goals and Educational Objectives:
1. Identify when to suspect a medical disorder could be causing depression symptoms.
2. Identify physical signs and symptoms of medical disorders that can cause depression. 
Course Outline:
1. Depression and biological etiologic theories. (10-15 minutes)
    A. Depression criteria and neurovegetative symptoms
    B. Monoamine theory, Inflammation, HPA axis
    C. RDOC for depression
2. Medical Screening for Depression (20 minutes)
    A. Basic psychiatric lab screening panel
    B. "Fatigue panel"
    C. When to consider medical causes
    D. Medications with depressive side effects
    E. Allergies
    F. Physical examination
            • Appearance
            • Odor
            • Neurologic examination
4. Medical Disorders with depressive symptoms (45 minutes)
    A. Constitutional
        • Malnutrition
        • Vitamin D deficiency
        • Vitamin B12 deficiency
        • Folate Deficiency
    B. Neoplastic Disorders
    C. Endocrine
       • Adrenal Insufficiency
       • Diabetes Mellitus
       • Testosterone Deficiency
       • Hypothyroidism
       • Polycystic Ovarian Syndrome (PCOS)
       • Perimenopause
       • Menopause
    D. Rheumatologic
       • Systemic Lupus Erythematosus
       • Obstructive Apnea/Hypopnea Syndrome
    E. Hematologic
       • Anemia
       • Hemochromatosis
    F. Infectious
       • Epstein-Barr Virus Infections, infectious mononucleosis
   G. Neurologic
      • Chronic Subdural hematoma
   H. Metabolic
      • Acute Intermittent Porphyria
5. Q & A (20 minutes time permitting)
---