Trauma & Trauma Therapy Special Interest Group
Monday, June 06, 2022
,
12:00 PM
-
1:00 PM PDT
Category: Special Interest Groups
---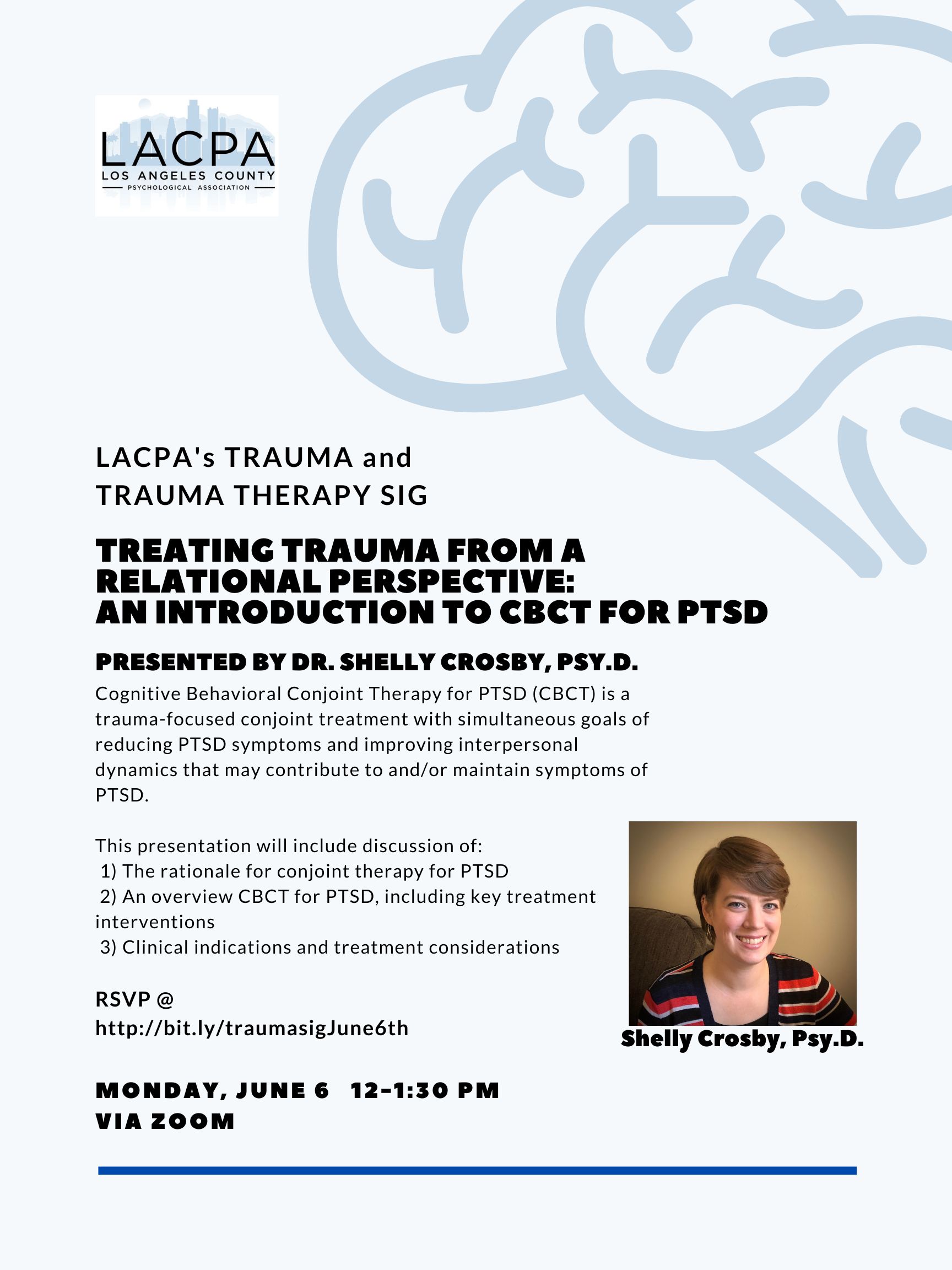 Shelly Crosby, Psy.D. (she/her) is a clinical psychologist specializing in evidence-based treatments for anxiety and PTSD. Dr. Crosby graduated from Pepperdine University and completed pre- and post-doctoral training within the VA Healthcare System. Dr. Crosby continued to develop her clinical specialty as a staff psychologist at the Long Beach VA (2015-2021) where she provided therapy for combat-related PTSD and comorbid conditions. While at the VA, Dr. Crosby received specialized training in multiple trauma-focused treatments (e.g., Cognitive Processing Therapy, Prolonged Exposure, Written Exposure Therapy, and Cognitive Behavioral Conjoint Therapy) and served as the LGBTQ Veteran Care Coordinator for the Long Beach VA hospital. In 2018, Dr. Crosby joined the National VA Trainer/Consultant Program working directly with CBCT developers (i.e., Drs. Monson & Fredman) delivering training and ongoing consultation to VA clinicians. Dr. Crosby currently owns a private practice in Long Beach, California, where she provides individual and couples therapy for anxiety/trauma/PTSD as well as clinical consultation/training for evidence-based treatments for PTSD.
Best,
Dr. Linda Hoffman & Dr. Sara Mehrabani
---
"The opinions of presenters at informal forums, such as Special Interest Groups (SIGs) or club meetings, and their approach to psychological issues and interventions do not represent a formal endorsement of any position by the Los Angeles County Psychological Association or its members.  The opinions, ideas, and concepts expressed are purely those of the presenter."
---