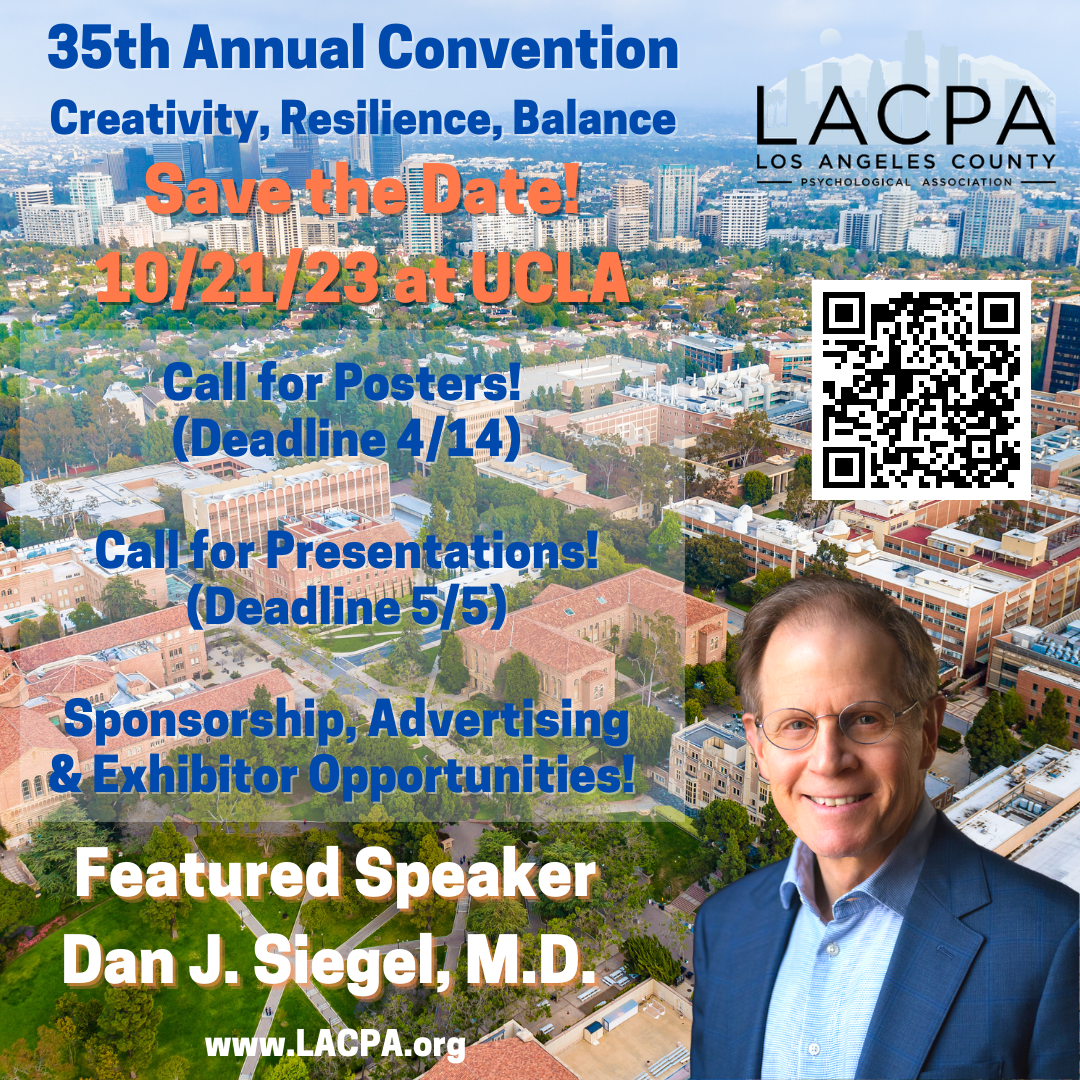 Be part of our 35th Annual Convention!
Creativity, Resilience, Balance
Back in person for the first time since 2019.
Join us at UCLA on 10/21/23
Featured Speaker: Dr. Dan Siegel
Accepting posters & morning presentations, inviting sponsors, advertisers & exhibitors now!
LACPA MEMBERS GET GREAT BENEFITS!
Ψ   FREE Participation in LACPA's Listserv
Ψ      FREE CEs at LACPA's Lunch & Learn Series & other Committee Events
Ψ      FREE subscription to The Los Angeles Psychologist, LACPA's quarterly award-winning magazine,
mailed to you or available online
Ψ      Opportunity to participate in LACPA's various Committees: Continuing Education, Diversity, Ethics, Finance, Local Advocacy Network,
Nominations/Elections/Awards, Publications, Student Leadership,
Arts/Creativity/Culture, Colleague Awareness Resources & Education, Community Outreach, Disaster Response, Networking
Ψ      Special fees for LACPA members at the 2023 35th Annual Convention,  In Person 10/21/23!                               
Ψ      Reduced fees for LACPA members for Live Continuing Education Courses & On-Demand Library
Ψ      One FREE 30-word Group Therapy Ad in each Los Angeles Psychologist & on LACPA's Website 
Ψ    Opportunity to feature a business card in The Los Angeles Psychologist
Ψ      FREE listing in the LACPA Website Community Member Search
Ψ      Access to list professional credentials in the "Find a Therapist" web search at lacpa.org
Ψ      Advocacy on behalf of local psychologists
Ψ      Networking with professionals in activities such as the Fall Party; Book, Film, or Hiking Clubs, Member & Networking Events
Ψ      Enhancement of professional development through Special Interest Groups such as Assessment, Child/Adolescent,
Cognitive Behavioral Therapy, Conscious Aging, Ecopsychology, Depth Psychology, Neurocognitive, Sexuality/Sex Therapy
or Sports & Performance Psychology
Ψ      FREE Job Board & Resume Postings on LACPA's website
Ψ      FREE ethics consultations
Ψ    Opportunities for professional leadership within the psychology community
Ψ  On-Demand Library with CE Series, Convention, and Lunch & Learn Presentations
Ψ Join LACPA Connect Facebook Group, Instagram, LinkedIn & Twitter to post and interact with fellow members
Questions on how to access your benefits?
Call 818-905-0410 or email [email protected]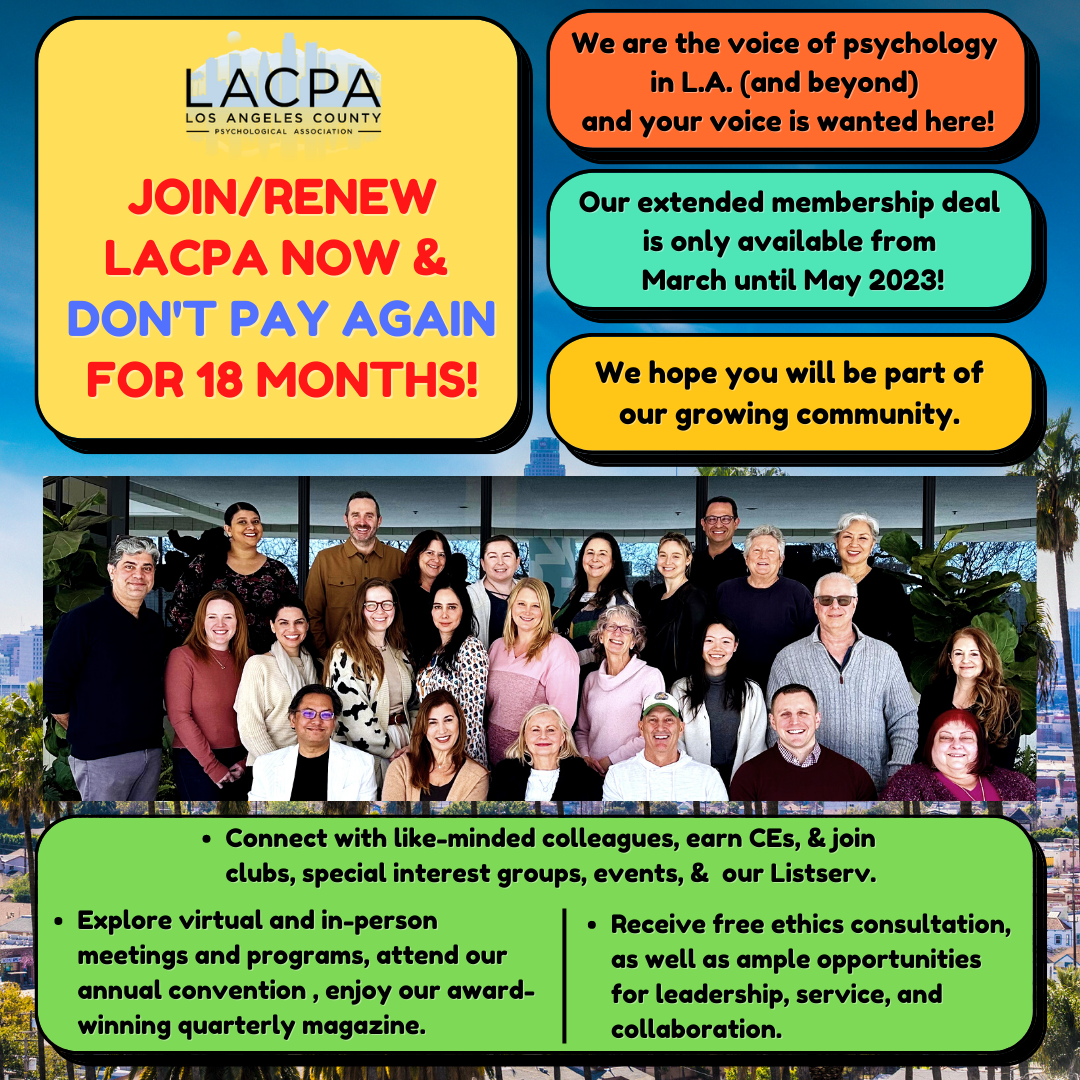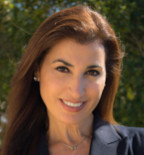 Spring 2023 President's Column: 
Miriam Hamideh, Ph.D.
Upon writing this Spring edition column, I consider the developments of the last year and reflect on how our psychological practice changed as a result of the COVID-19 pandemic. At the very least, it caused a permanent shift for many clinicians who now provide only virtual treatment and services. I also reflect on how our collective state of mind continues to be affected by the pandemic, and what we can do as psychologists to alleviate our uncertainty and stress. Based on current research, as well as my own experience as a clinician and supervisor, I find it imperative to focus on the difficulties psychologists experience in identifying their own mental health needs and overcoming some of the obstacles to seeking professional help. I also want to reiterate the need for the inclusion of psychotherapists from diverse fields in order to prevent further isolation and instead fortify our solidarity.

Since the onset of the pandemic, we are seeing exponentially higher volumes of mental illness across all sectors of society. People are increasingly using substances to manage stress and anxiety, with rates of addiction and overdose has increased significantly (National Institute on Drug Abuse, 2022). With unprecedented life and job uncertainty, the absence of our habitual ways of coping, and even the inability to change environments, we are still feeling aftershocks and face elevated baselines for stress, anxiety, and depressive symptoms. Both culturally and biologically, we are attuned to uncertainty; it causes distress and discomfort that we are keen to relieve.

Psychologists have the specialized skills as well as the obligation to treat mental health and substance use issues, but it is important to remember that we are not immune to them. Psychologists from all different specialties, whether in private practice, schools, community clinics, correctional facilities, or academia, are experiencing burnout. Occupational burnout is characterized by energy depletion, cynicism and detachment, and lack of a sense of efficacy. It negatively affects well-being (Leiterab and Maslachab, 2016). In academia, for example, a 2021 survey revealed that 71% of psychology faculty and 89% of psychology graduate students experienced difficulty most commonly with depression, anxiety, and suicidal thoughts or behaviors, largely from feeling under-compensated, underappreciated, and overworked (Victor et al., 2022). Ongoing work stress and demands can then spill over into personal lives, leading to higher tension and stress in relationships. This phenomenon may not be readily recognized or commonly discussed because psychologists are expected to be healthy themselves. Unable to access systems of care and support, psychologists may feel marginalized and remain isolated in their struggles.

We all know that our work is especially mentally and emotionally demanding. Time and energy-intensive, it limits the ability to decompress, disconnect, and practice self-care. As in the general population, mental health professionals may neglect to voice their needs or seek help for fear of judgment from their colleagues, patients, and loved ones. For psychologists, there is the additional factor of how to preserve anonymity and privacy. These factors, along with the false assumption that they should manage their conditions on their own, contribute to mental health professionals neglecting to access help for substance use and mental health issues.
(To continue reading, click HERE)