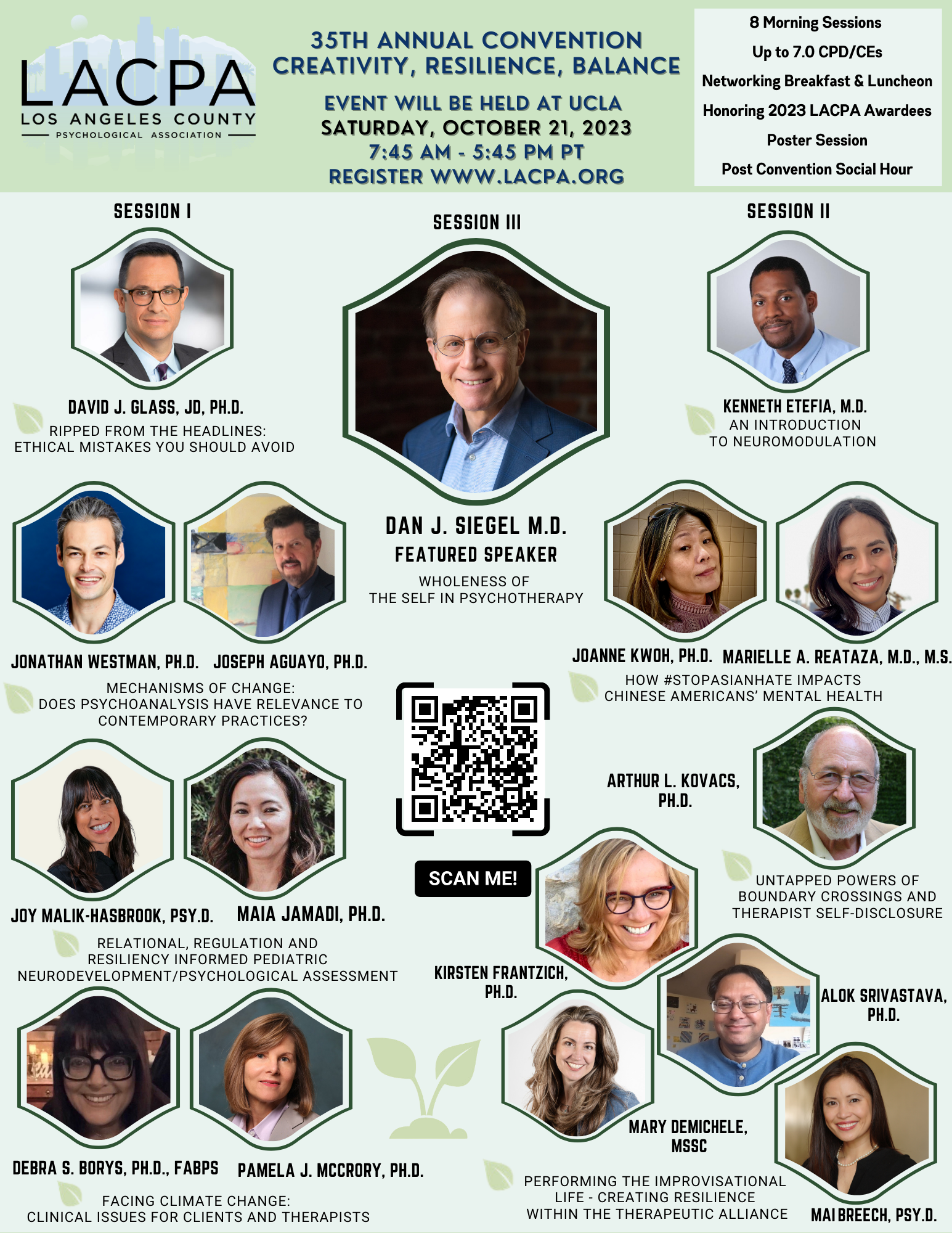 Be part of our 35th Annual Convention!
Creativity, Resilience, Balance
Join us at UCLA on 10/21/23
8 Morning Sessions/Up to 7 CE/CPDs Available
Breakfast & Networking Lunch Included

Featured Speaker: Dr. Dan J. Siegel
"Wholeness of the Self in Psychotherapy"
Inviting Sponsors, Advertisers & Exhibitors!

LACPA MEMBERS GET GREAT BENEFITS!
Ψ   FREE Participation in LACPA's Listserv
Ψ      FREE CEs at LACPA's Lunch & Learn Series & other Committee Events
Ψ      FREE subscription to The Los Angeles Psychologist, LACPA's quarterly award-winning magazine,
mailed to you or available online
Ψ      Opportunity to participate in LACPA's various Committees: Continuing Education, Diversity, Ethics, Finance, Local Advocacy Network,
Nominations/Elections/Awards, Publications, Student Leadership,
Arts/Creativity/Culture, Colleague Awareness Resources & Education, Community Outreach, Disaster Response, Networking
Ψ      Special fees for LACPA members at the 2023 35th Annual Convention,  In Person 10/21/23!                               
Ψ      Reduced fees for LACPA members for Live Continuing Education Courses & On-Demand Library
Ψ      One FREE 30-word Group Therapy Ad in each Los Angeles Psychologist & on LACPA's Website 
Ψ    Opportunity to feature a business card in The Los Angeles Psychologist
Ψ      FREE listing in the LACPA Website Community Member Search
Ψ      Access to list professional credentials in the "Find a Therapist" web search at lacpa.org
Ψ      Advocacy on behalf of local psychologists
Ψ      Networking with professionals in activities such as the Fall Party; Book, Film, or Hiking Clubs, Member & Networking Events
Ψ      Enhancement of professional development through Special Interest Groups such as Assessment, Child/Adolescent,
Cognitive Behavioral Therapy, Conscious Aging, Ecopsychology, Depth Psychology, Neurocognitive, Sexuality/Sex Therapy
or Sports & Performance Psychology
Ψ      FREE Job Board & Resume Postings on LACPA's website
Ψ      FREE ethics consultations
Ψ    Opportunities for professional leadership within the psychology community
Ψ  On-Demand Library with CE Series, Convention, and Lunch & Learn Presentations
Ψ Join LACPA Connect Facebook Group, Instagram, LinkedIn & Twitter to post and interact with fellow members
Questions on how to access your benefits?
Call 818-905-0410 or email [email protected]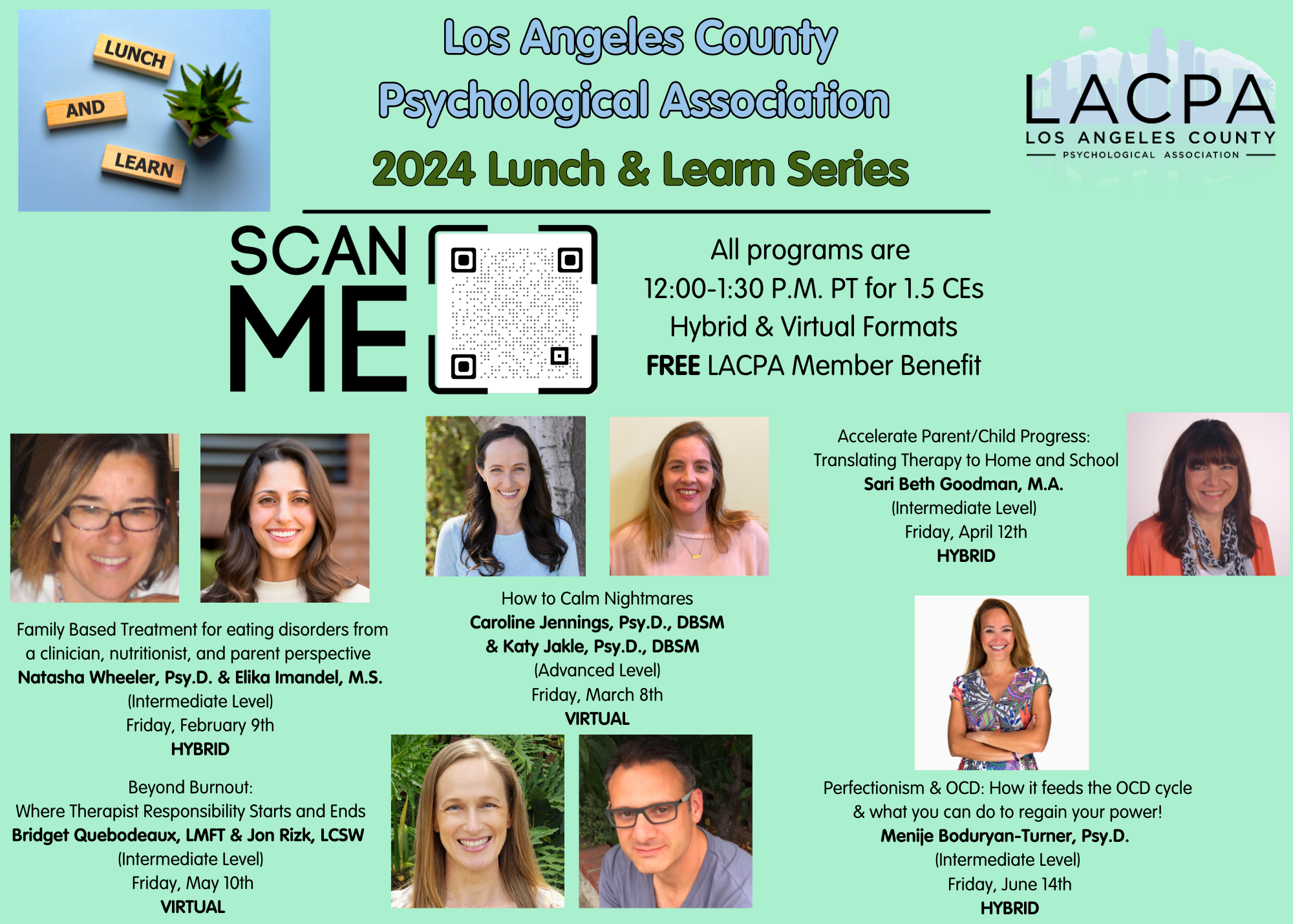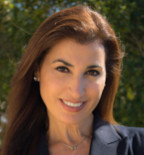 Fall 2023 President's Column
Miriam Hamideh, Ph.D.
It has been an exciting and fruitful year within the LACPA community so far. In June, I presented my presidential talk on the "Psychology of Uncertainty," which brought together many existing and new LACPA members, as well as past and future presidents. Sharing my journey as a psychologist and the uncertainty that came along with it generated a very engaging discussion. We could all relate to similar challenges of treating mental health and substance use and looked at ways we could grow in our practice collectively.
The 2023 LACPA convention will be held on Saturday, October 21st at UCLA's Covel Commons, which will be our first in-person convention since the onset of the pandemic. Our theme this year is "Creativity, Resilience, Balance," to reflect the changes we have seen in the field of psychology and society as a whole. There will be eight excellent presentations on diverse topics to choose from for our two-morning sessions:

Ripped from the Headlines: Ethical Mistakes You Should Avoid

Mechanisms of Change: Does Psychoanalysis have Relevance to Contemporary Practices?

Relational, Regulation and Resiliency Informed Pediatric Neurodevelopmental/Psychological Assessment

Facing Climate Change: Clinical Issues for Clients and Therapists

Untapped Powers of Boundary Crossings and Therapist Self-disclosure

An Introduction to Neuromodulation

How #StopAsianHate Impacts Chinese Americans' Mental Health

Performing the Improvisational Life - Creating Resilience Within the Therapeutic Alliance
Additionally, we are delighted to have Daniel J. Siegel, M.D. present his keynote speech on the "Wholeness of the Self in Psychotherapy." Dr. Siegel is a clinical professor of psychiatry at the UCLA School of Medicine and the founding Co-director of the Mindful Awareness Research Center at UCLA. He is also the Executive Director of the Mindsight Institute, which focuses on the development of mindsight, teaches insight, empathy, and integration in individuals, families, and communities. Dr. Siegel has published extensively for both professional and lay audiences, including New York Times bestsellers: Aware: The Science and Practice of Presence, and two books with Tina Payne Bryson, Ph.D including The Whole-Brain Child. His most recent book, IntraConnected: MWe (Me + We) as the Integration of Self, Identity, and Belonging is actually what prompted me to invite him as our keynote speaker.

We will also be presenting this year's award honorees. Henry Stern, state senator of Los Angeles, will receive the 2023 Award for Distinguished Legislator, Arthur Kovacs, Ph.D., will receive the 2023 Award for Distinguished Service to the Profession of Psychology, and John Geirland, Ph.D., will be honored with the 2023 Service to LACPA by a LACPA Member Award.

Henry Stern is a sixth-generation Californian representing nearly one million constituents in the California State Senate's 27th District. A graduate of Harvard and University of California Berkeley Law School, he has continually advocated for increased care and funding for mental health and our state's most vulnerable populations.

Dr. Kovacs has been a practicing psychologist for over 60 years. He was the Founding Campus Dean of the California School of Professional Psychology (Alliant) and was a Professor/Teacher/Administrator/Mentor for many years. He also served on the American Psychological Association Council of Representatives for many years and was a Consultant on Healthcare Reform for the APA's Committee for the Advancement of Professional Psychology. He has consulted for many community organizations and was the Editor of the Journal of Psychotherapy: Theory, Research and Practice.

Dr. Geirland has been a LACPA member for over 10 years, having served on the Board of Directors as Editor of its periodical, The Los Angeles Psychologist. Over many years, Dr. Geirland fulfilled these duties with humor, grace, wisdom, and diplomacy.
The 2023 LACPA Convention is sure to be engaging and informative. I know we are all looking forward to regaining both professional and personal connections with one another as we meet in person.