LACPA's 2023 Presidential Theme
Creative Resilience: Harnessing Uncertainty to Achieve Balance
Miriam Hamideh, Ph.D.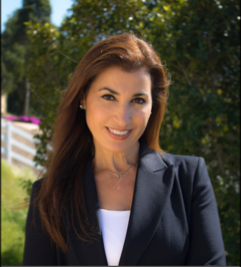 It is an honor to once again be a part of LACPA leadership, now joining you as President for the 2023 term. To better demonstrate my commitment to LACPA and to our profession, I would like to share a little about my personal, educational, and professional journey.
I have been working as a psychologist since 1990. My journey began at the Catholic University of Pelotas (UCPEL) in Brazil, where I found my passion for psychology. I then moved to Buenos Aires, where I worked at a private psychiatric clinic and wrote my doctoral thesis at Belgrano University.

After graduating in 1993, I moved to the United States, where I first worked for Ventura and Santa Barbara County Mental Health. In 2002, I became an adjunct professor for the Psychology Graduate Program at California Lutheran University (CLU); there, I taught developmental psychology and cultural diversity in clinical practice for six years. Currently, I am a member of the Graduate Psychology Advisory Council for CLU.

I began my private practice in 2001, working with individuals and couples. By 2015, my clinical practice evolved and grew, as I founded an intensive outpatient treatment facility for mental health and substance use disorders: Psychological Care Institute, or PCI Centers. As the Clinical and Executive Director, I design dynamic treatment programs, supervise a diverse clinical staff, and oversee the care and well-being of all of our patients using a biopsychosocial approach.
I served on LACPA's Board of Directors between 2005 and 2016, assisting in the creation of the Cultural Diversity Committee in 2005 and serving as Chair and Co-Chair for nearly 10 years. While still transitioning to a new personal and professional life here in the United States, LACPA was my "home" organization, where I learned a lot and established wonderful friendships.
As the 2023 LACPA President, I want to continue the traditions established by previous leaders by advancing projects and initiatives that generate not only greater awareness, but greater participation from our diverse community of psychologists. It is imperative that LACPA address its historical shortcomings on various issues, including, but not limited to race, gender, sexuality, disability, aging, and socioeconomic status, while reshaping our frameworks and shifting the language we use. We must encourage diversity, equity, and inclusion not for our own sake, but to truly transform the landscape from which we communicate and advocate. Psychologists of all different backgrounds and specialties should feel like they have a voice and place here at LACPA, whether we work in private practice, schools, community clinics, correctional facilities, academia, or other organizations. That way, we can prevent isolation and marginality and instead build our community through compassion and comradery. My philosophy is that curiosity and humility allow us to learn, apply what we learn, and build relationships with patients, colleagues, and family. The theme I have chosen for 2023 is "Creative Resilience: Harnessing Uncertainty to Achieve Balance." The COVID-19 pandemic completely uprooted our ways of life. Work, leisure, and communication all transformed beyond what we were prepared for. And yet, in the midst of complete uncertainty, we found solutions for both personal and professional activities. With work conducted from home, we still built relationships and people could get the help they needed. We did not achieve perfection, but we did find balance.

Now, and for the considerable future, we will be navigating a post-pandemic landscape. We can build upon the innovative ways we have used digital media and technology to spread awareness and promote better mental health. As human beings, it is our natural instinct to adapt to our changing environments. We can find comfort in uncertainty and use it as inspiration to propel us toward ingenuity. Let us continue to communicate and collaborate with each other so that we can heal and build together.
Share this post: